History of Miami – John Collins (1 of 4)
John Collins
Episode 1 of 4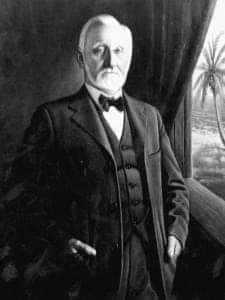 The Collins Avenue was named in the honor of John Stiles Collins after his death because of all his help to develop and build a perfect place for tourism. Even though it started with another vision, he adapted and was able to create what today is known as Miami Beach.
John S. Collins was born in December 29, 1837 in Moorestown, New Jersey. He came from a family dedicated to farming in the western New Jersey since 1678. He always had a passion for farming. Therefore, in 1891, he decided to invest in a land between Miami and the Atlantic Ocean which he saw as a great opportunity to grow vegetables and fruits.
When he moved, in 1896, the land captivated him and decided to buy more land with additional partners from New Jersey. At this point, he wanted to focus on new and exotic products like mangoes and avocados. Unfortunately, the partnership did not last long. However, he was sure about the potential and bought out his partners making him the only owner of 5 miles of land.
Collins kept working on his farming ideas in a land destined to be a paradise for tourism. Continue reading about John S. Collins' life in these 4 episodes series on the life and legacy of John Collins.